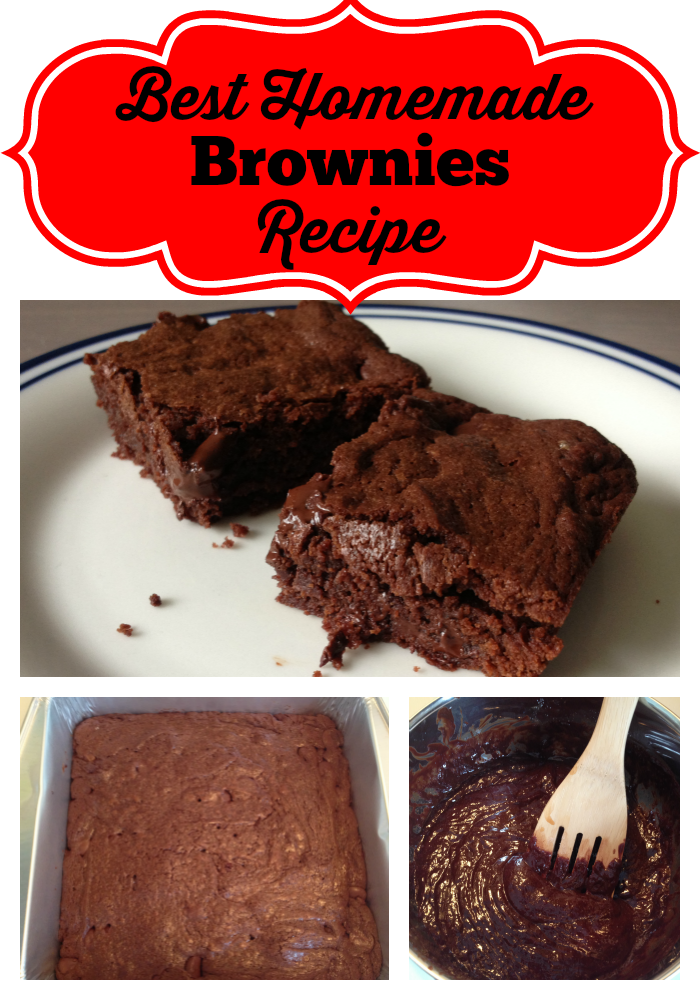 If you are looking for a relatively easy and extremely delicious homemade brownies recipe, look no further.  I found this recipe many, many years ago in the San Francisco Chronicle.  Seriously, this was before the internet was a thing. Luckily, my mom cut it out and has copied it out for both me and my sister to use.
So, to the recipe.  The trick to this recipe is to use good chocolate chips.  I mean it. Don't skimp out and buy the generic brand that's one sale.  Buy Guittard or Ghirardelli chocolate chips. For a twist that goes well with wine, use dark chocolate chips.  The resulting brownies are delightful with a lovely glass of Cabernet Sauvignon.
Best Homemade Brownies Recipe
Best homemade brownies recipe
Prep time:
Cook time:
Total time:
This homemade brownies recipe will forever ruin you for that stuff that comes in a box.
Ingredients
⅓ cup butter (use unsalted butter not margarine or some substitute crap)1 12 ounce bag of chocolate chips
2 eggs
1 tsp vanilla (again use real vanilla extract not that fake stuff)
½ cup sugar
⅔ cup flour
¼ tsp salt
½ cup nuts (this is optional and choose the nut based on your preference)
Instructions
Preheat oven to 325 degrees.
Grease and flour an 8 inch square pan.
Combine butter and 1 cup of chips in a saucepan and place over low heat.
Stir this almost constantly until melted and smooth.
Set aside to let cool slightly. I keep the mixture in the saucepan and mix it all by hand.
Beat in eggs and vanilla, then add sugar and beat until smooth.
Add flour and salt until blended. Stir in nuts and remaining chocolate chips.
Spread in prepared pan and bake for 35 minutes. The center should remain moist. Cool 15 minutes, then cut.