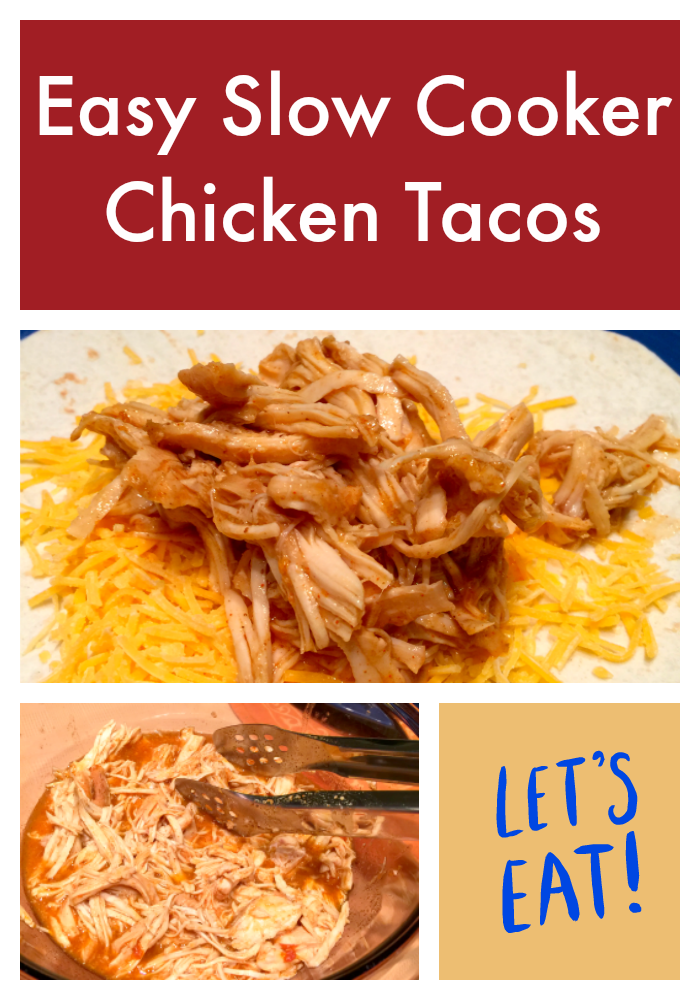 Personally, tacos are my favorite food. Well, my second favorite food. Spaghetti with meat sauce is my favorite food, but tacos are way easier to make…at least the Easy Slow Cooker Chicken Taco recipe is…I mean it's right there in the name!
Anyway, I came up with this idea after eating some really tasty chicken tacos at a holiday party last year. The best part is that they were in a slow cooker!
So, I researched a few recipes and put together my own version of chicken tacos. One of the things I love about slow cookers is that they don't heat up the house, so feel free to make this any time during the year. The only thing it requires is time.
Easy Slow Cooker Chicken Taco Tips:
Use frozen chicken.
Re-season the chicken once it's done. It will probably be a bit bland. That's why I suggest two (or one and a half) packets of taco seasoning.
Have both crunchy and soft tortillas for this dish. It's great either way!
Use slow cooker bags to help with clean up.
On to the recipe!

Easy Slow Cooker Chicken Taco Recipe
Prep time:
Cook time:
Total time:
Tasty chicken tacos you make in the slow cooker
Ingredients
4 Frozen Chicken Breasts
2 Packets of your favorite taco seasoning
1 14 oz can of Chicken Broth
Instructions
Place frozen chicken breasts in slow cooker.
Pour one packet of taco seasoning on top of chicken.
Pour can of chicken broth on top of chicken & taco seasoning.
Cover slow cooker.
Place on low for at least 6 hours. Depending on your machine, it could take as few as 5 hours or up to 8 hours.
After 5 hours, check to see if chicken has reached an internal temperature of 165° Fahrenheit (75° Celsius).
Once chicken has reached the safe temperature, place chicken breasts in serving dish and shred with a fork (or two).
Open up the second packet of taco seasoning and season to taste. Stir it up with the meat well. It might not take much.
Pour/ladle a little of the juices from the slow cooker into the serving dish and stir for moist chicken.
Serve with tortillas and your favorite taco accompaniments. For side dishes, I suggest you keep it simple and serve tortilla chips.
Notes
Feel free to play with this recipe. You can add in garlic, cumin, or chili powder at the end instead of a second packet of taco seasoning.