Unless you're from northern California, odds are you have no idea what I'm talking about and that's sad.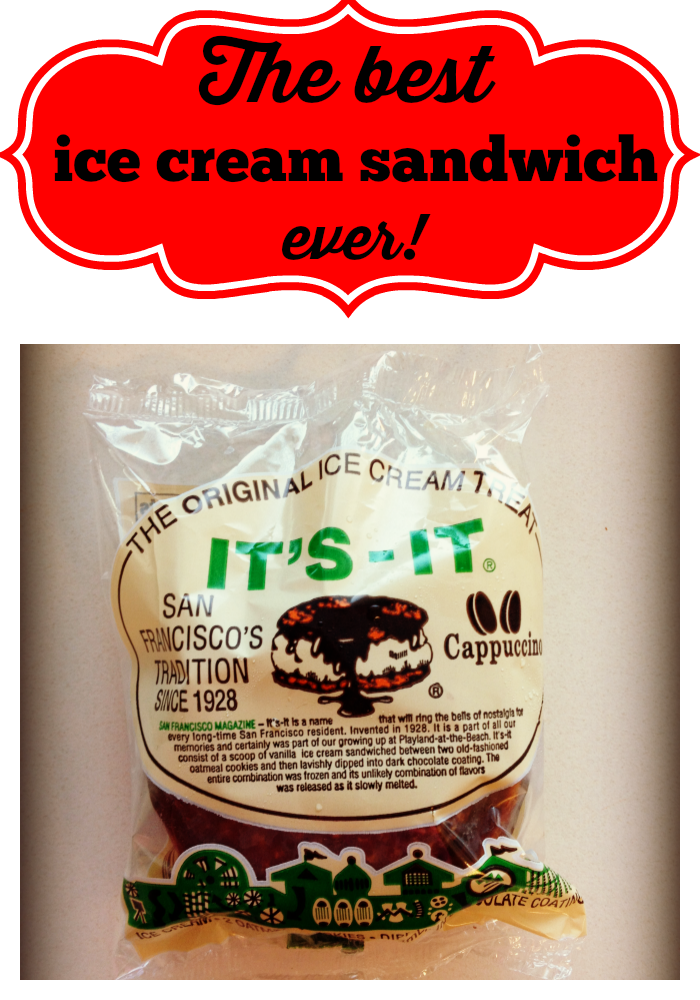 I'm talking about the IT'S-IT ice cream sandwich…well, it's the best ice cream sandwich,ever.
I've driven past the factory in the Bay Area and you can smell the oatmeal cookies baking.  Oh the cookies!
Add to that a big old scoop of ice cream.  My favorite was chocolate, but that was elusive.  Vanilla was the most common and so was mint for some reason.  Cappuccino was the back up for the chocolate.
Then, the whole thing is enrobed in chocolate…I'm salivating just thinking about how delicious it tastes. There was a trick to eating the sandwich. You had to keep it in the bag, or you'd end up with fingers full of chocolate.
When I mentioned the IT'S-IT ice cream sandwich to my husband, he had no idea what I was talking about.  That's when I realized it's a San Francisco Bay Area treat…not unlike Rice-a-Roni.
Somewhere I read on the internets that the IT'S-IT ice cream sandwich is only distributed in California. I'm guessing it's because their operation is small. The building housing the factory is by no means gigantic.  It's pretty non-descript
Note: I'd link to their website, but Google thinks it's hacked, so I'll spare you (and me) that headache.
This got me to thinking about regional foods.  What foods are only available in or near your home state or area? Is there a food you long for, but are no longer able to find?
Honestly, I've never seen their other products that the Wikipedia claims they make.