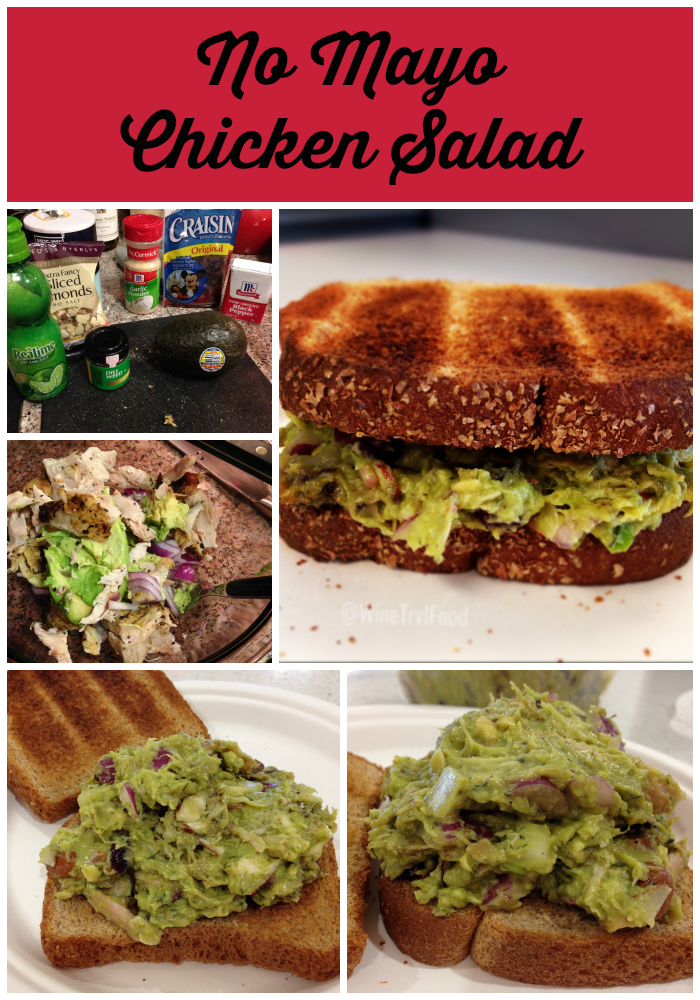 About 12 years ago, my sister concocted a recipe for chicken salad without mayonnaise. That's right. For those of us who dislike mayo, there is a better alternative. Maybe this is paleo, maybe this is gluten-free, but Brenda threw together this recipe from things in her pantry before those buzzwords were all over social media and before social media.
What's the mayonnaise replacement? Avocado. Holy crap this is one great sandwich.
Mostly, this is cooking from the hip. You can switch out spices and most ingredients per your taste and preferences, but below is the basic recipe.
Chicken salad hints:
Be careful of the red onion. You only need one 1" slice to two avocados. It's powerful. Feel free to substitute yellow or white onion.
If you overfill the sandwich, it will spill out. Feel free to use a fork to pick up the spillage.
This recipe is meant to be made and eaten the same day. If you want it to keep overnight, stir in a good amount of lime or lemon juice to keep the avocado from browning. Not too much, so all you taste is lime juice, but enough to keep the brown at bay for a bit. It will likely still brown up a bit, but it should be OK to eat the next day and not taste brown.
Chicken salad replacements:
If you don't like almonds or dried cranberries, switch them out for what you do like. The basis of the filling is avocado and chicken, get creative from there.
I enjoy this sandwich on toasted bread, but if that's not your thing, don't toast it.
Get creative with what's sitting in your cupboard. This is a great recipe to use up avocados that might be getting close to over-ripe.
Feel free to serve this as a dip with chunks of crusty French bread or crackers.

Recipe: No Mayo Chicken Salad Sandwich
Recipe type:
Lunch, Sandwich
A delicious alternative to mayonnaise based chicken salads
Ingredients
2 avocados (mashed)
One can of chicken (drained) or Rotisserie chicken (shredded)
1 slice of red onion (diced or chopped)
Dried cranberries (red grapes halved may be substituted)
Almond slivers
Dried dill
Garlic powder
Salt
Pepper
Lime juice
Instructions
Place chicken in a large bowl
Add avocado
Mix together using two forks to mash mixture together
Add in diced red onion, mix
Add in to taste, dill and garlic powder, mix
Add in dried cranberries (or grapes) and almonds to taste, mix
Sprinkle with salt & pepper
If want to keep overnight, stir in lime juice.