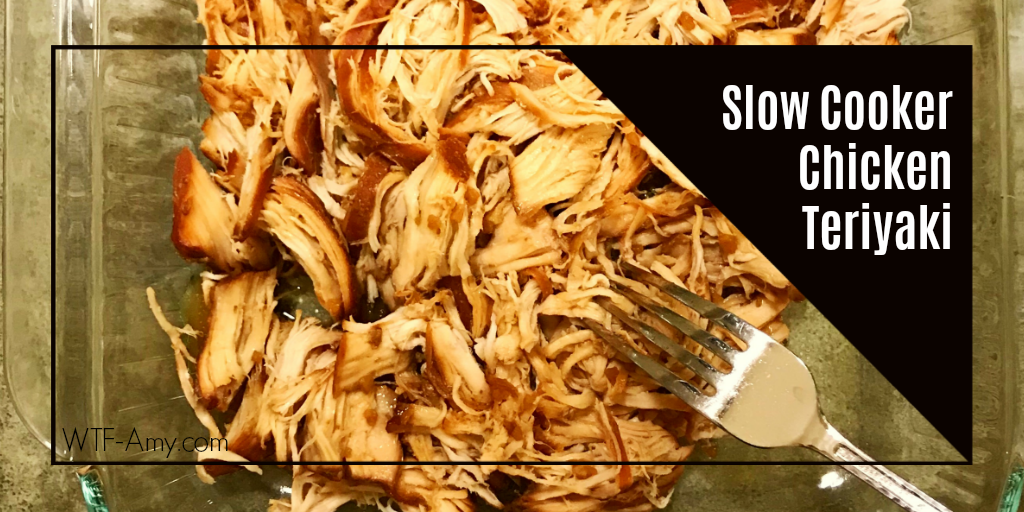 Trying to find healthy food that my husband will enjoy is a challenge for me because he's a really picky eater. Luckily, this Slow Cooker Chicken Teriyaki recipe is one he enjoys.
My goal is to get more chicken into our dinners because eat way too much beef and fried foods. While it's tasty, it's not very healthy. Chicken is amazingly low on calories and fat.
One day when I was looking around Pinterest to add a new recipe to my repertoire, I found this one for Beef Teriyaki Noodles on Chef Savvy.
It was pretty good, but a little too complicated for me. I prefer my meals to use one pot whenever possible. Luckily, husband loved the sauce. So one day, I decided to change it up a bit and try it in the slow cooker.
Basically, I took their recipe for teriyaki sauce, dumped it on top of some chicken breasts and put it in the slow cooker for a few hours. The results were amazing!
Don't be freaked out by the mirin or the sesame oil in the recipe because you should be able to find it in the Asian food section of your local mega-grocery store.
Be aware that the teriyaki sauce will be thin. It will be more like an au jus, but it's still tasty. You can thicken it up with the cornstarch slurry after its done cooking if you prefer the sauce to be thicker.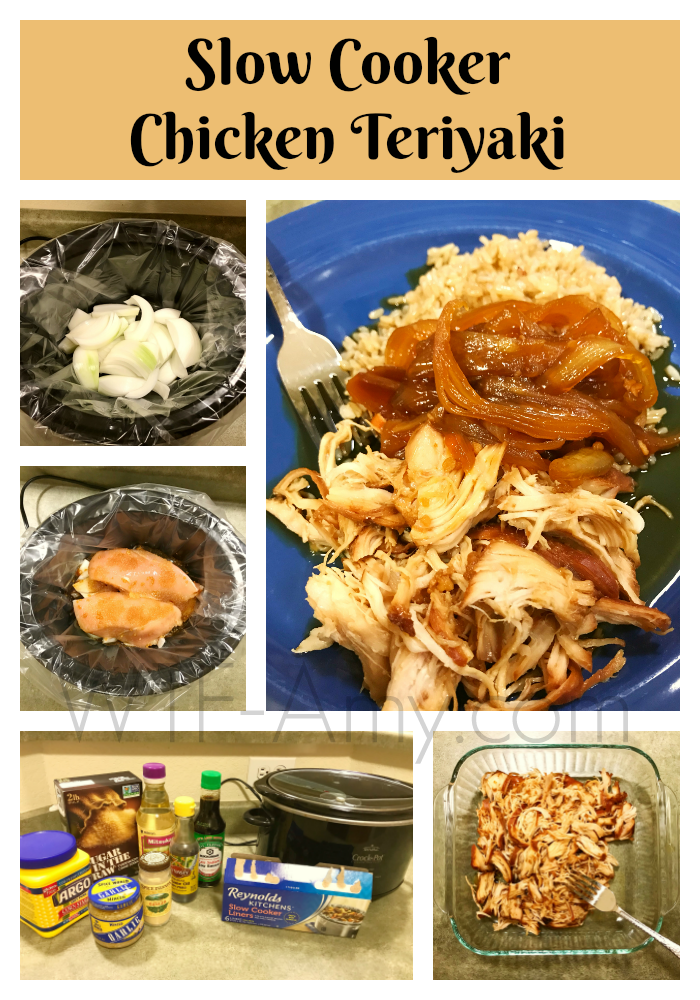 Slow Cooker Chicken Teriyaki Tip #1
Use either frozen or fresh chicken breast. If you use frozen then you'll probably need 5 to 6 hours to cook the chicken.
Slow Cooker Chicken Teriyaki Tip #2
I like to cook the onions with the chicken because they end up being tender and sweet. I don't recommend cooking other veggies in the slow cooker with the chicken because they might end up mushy. If you want to heat up your veggies, I would do it in a pan with a little oil like a mini stir fry. My husband doesn't like most veggies, so I don't take the time to do it.
Easy Slow Cooker Chicken Teriyaki Recipe
Make chicken teriyaki in your slow cooker
Ingredients
3 cloves garlic, minced
1 teaspoon ginger, grated (can also use powered ginger from spice aisle)
½ cup low sodium soy sauce
½ cup mirin
½ cup light brown sugar or granulated raw sugar
2 teaspoons sesame oil
2 Chicken breast
1 Onion
1 teaspoon cornstarch (optional)
1 tablespoon water (optional)
Instructions
Chop up onions, place in slow cooker.
Place chicken in slow cooker.
Mix remaining ingredients (except cornstarch & water) together and pour over chicken.
Cook on low for 3 – 6 hours or until meat thermometer reads 165 F.
Remove chicken from slow cooker and shred with fork. Pour some of the sauce from slow cooker over shredded chicken.
Serve over rice, noodles, or on a bun for a sandwich.
Notes
Serving suggestion: Dice up bell peppers, carrots, broccoli, etc. Toss in with shredded chicken and serve over rice or noodles.

If you want to thicken the sauce, mix the cornstarch & water to make a slurry. Take some of the sauce out of the slow cooker after its done and put it in a sauce pan. Mix the slurry with the sauce and let it come to a boil. It should thicken up a bit.